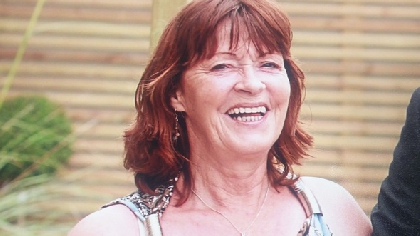 Patricia O'Connor died in 2017
A man whose mother's remains were found dismembered in the Wicklow mountains has told the Central Criminal Court his sister didn't want to report her missing.
Kieran Greene handed himself in to Gardaí in June 2017, and told them he killed his partner's mother Patricia O'Connor after she attacked him with a hurl.

He told them he then dumped her body in a shallow grave in Wexford, but later dug her up and scattered her remains across the Wicklow and Dublin mountains.

He insisted he acted alone at all times.

However, the jury heard previously that he changed his story six months later, and told Gardaí it was Patricia's husband Gus who killed her, and that he took the blame because Gus told him he killed her in his defence.

Gus had been arrested on suspicion of being involved in her murder in Sept 2017, but was released without charge.

Today, the jurors heard that he had been part of this trial, but that he pleaded guilty some weeks ago to an offence of reporting his wife missing at a time when he knew she was already dead. By doing so, Mr. Greene's defence barrister Conor Devally said, he impeded the apprehension or prosecution of an alleged offender.