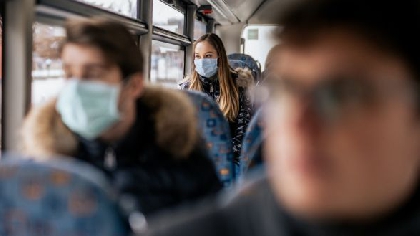 The National Transport Authority says customers are responding positively to the new rules.
Face-coverings became mandatory on public transport on Monday, but the rules aren't being enforced yet.

The same day, buses, trains and trams were allowed to operate at 50 per cent capacity - up from 20 per cent.

The NTA says transport operators have been tracking how many customers have been wearing face-coverings.

In the greater Dublin area, compliance is running at between 75 and 98 per cent on Bus Éireann services.

Three in four passengers on Bus Éireann city services in Cork and Waterford are wearing face coverings.

The rate's at 40 per cent in Limerick and Galway.

In rural areas, the compliance rate's at over 90 per cent on Local Link's bus services.

60 per cent of people arriving into Heuston Station in Dublin by train are wearing face-coverings.