10 minutes | Saturday, July 23rd, 2022
There are few cities around the globe that are as luxurious as London. This is one of the most desirable destinations and somewhere with endless attractions for those that enjoy the finer things in life. If you have 48 hours for a luxury trip to London then here are a few ideas on how to spend your time. London is world-famous for its superb shopping opportunities which include huge shopping areas and luxury stores like Harrods, Harvey Nichols, and Selfridges & Co. London is a fabulous city with tons to see and do if you enjoy the finer things in life. It can be hard to know where to start especially if you have just have a few nights for your luxury trip to London, but our travel talk review should give you a few ideas for how to spend your time and get the most out of your trip to this vibrant city. I just love to visit London at least four or five times a year. I flew with Aer Lingus to Heathrow and hopped on the tube to Gloucester Road which was just a two minute walk from the hotel.
Meliá London Kensington
It is important that you choose the right place to stay during a trip to London. You will want to be centrally located so that you can easily get out and about to explore the best areas and not to spend all day travelling on the underground. I stayed at one of my favourite hotels and areas in London - Melia London Kensington right in the heart of the action. A great place to stay for easy access from Heathrow and other airports. This is a four-star deluxe boutique hotel a short walk from London's famed museums, the Natural History Museum, Science Museum, V&A and the Royal Albert Hall. Facilities include wireless internet, fitness suite, restaurant & wine bar, lounge bar and 24 hour room service. I really love this area and there's loads to do and see nearby. Meliá Hotels
A wonderful welcome from Mercedes Bermejo, Resident Manager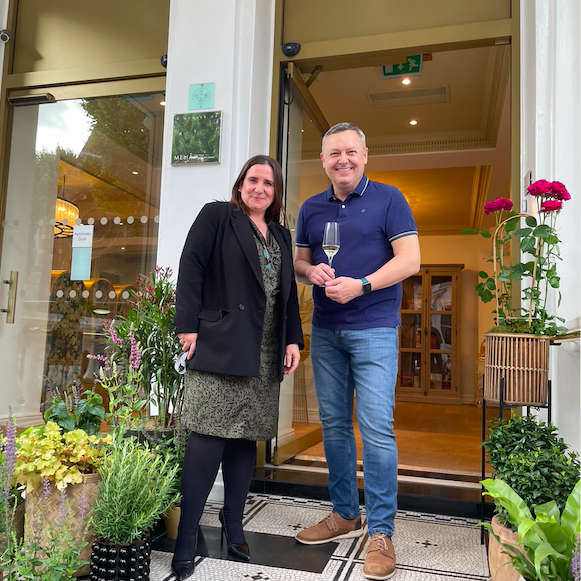 A little luxury at the Meliá London Kensington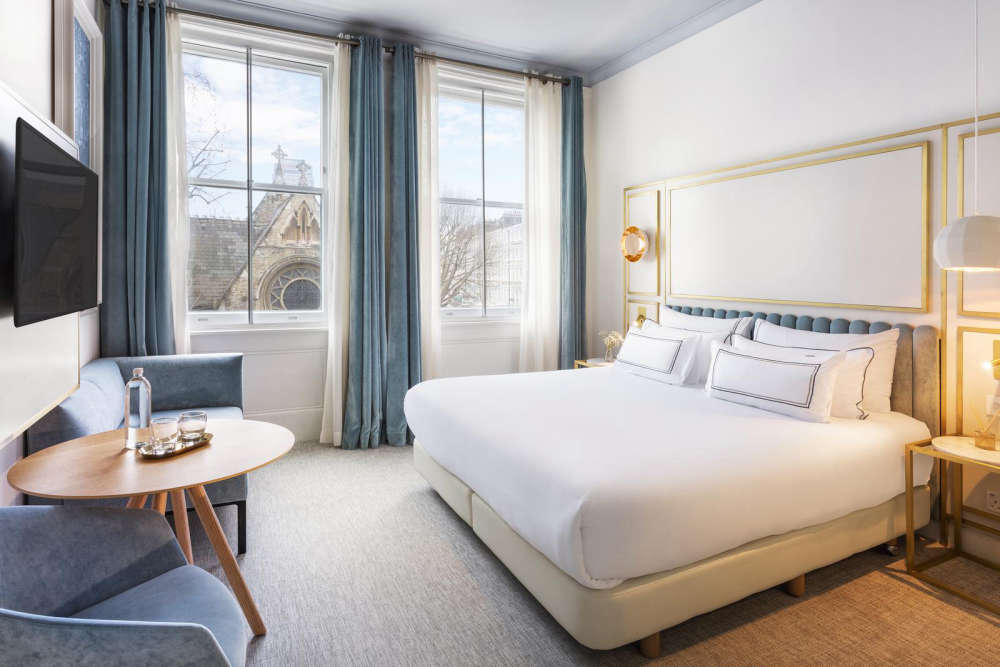 RHS Chelsea Flower Show
I had always wanted to attend the RHS Chelsea Flower Show so when I received an invitation from Swiss Tourism to attend the show and to visit their Swiss Sanctuary Garden I was beside myself with excitement. I've been a huge gardening enthusiast from a young age and the show was amazing. I was delighted to meet the designer Lilly Gomm at the show and she described her wonderful creation as 'an imaginary personal haven that draws together the unique flora typifying Switzerland's different regions', A Swiss Sanctuary mixes alpine and Mediterranean planting to illustrate the country's distinctive and rich natural landscapes. In partnership with the Ticino Region, Bern Region and Lake Geneva Region, the garden really highlighted some of the many reasons to visit these beautiful picturesque cities and to enjoy the scenic countryside of Switzerland. I can't wait to return to see the show again next year. Swiss Tourism's Garden Highlights from the Show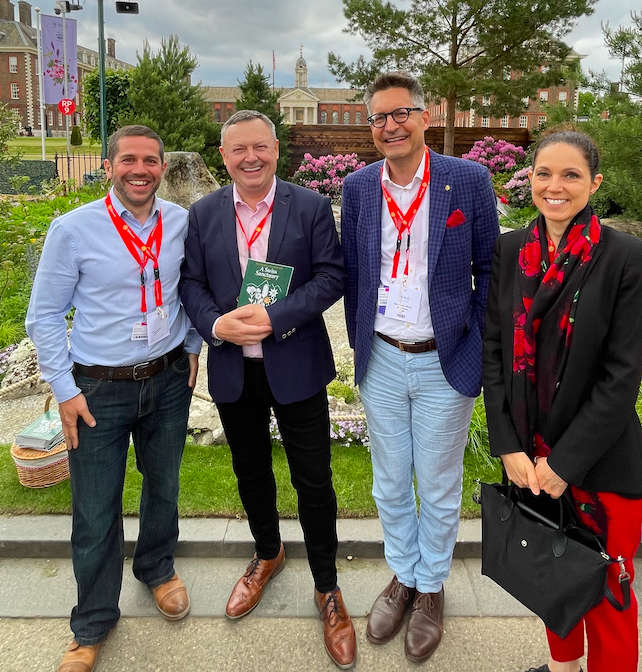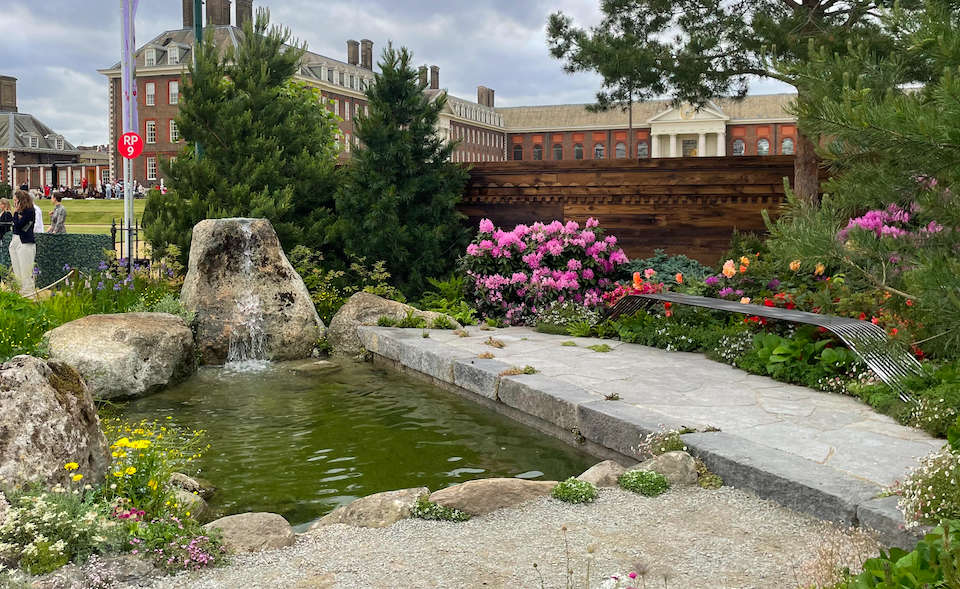 Maggie Jones Restaurant
For a really great traditional dinner I recommend Maggie Jones - Maggie Jones's has been a favourite haunt among Kensington locals for over 40 years. Cosy, rustic, informal and incurably romantic, the restaurant is tucked away in a little cul-de-sac between Kensington High Street and Kensington Church Street. Maggie's is warm, friendly and traditional, with a generous menu full of classic dishes, beautifully cooked. They still serve traditional steak and kidney pie which was the best I've tried. It's like dinner at your Grannies here. Maggie's Fish Pie is a must. Slicing through the mash with your fork is very, very satisfying. Eating it is even better. The mash is fluffy with a lovely crisp skin, and the fish is just the right combination of creamy and salty. This is a must-order.
Roasted Rump Of Lamb With Rosemary And Garlic
My dining buddy Melanie (who told me about Maggie's) tried the lamb and loved it. It smells great, and tastes even better. It was tender, crisp and heavy on the garlic and rosemary which was great.
Cauliflower Cheese
If you cover any vegetable in cheese you're onto a winner right!. But this is especially tasty. The cheese is thick, but it's mild and you can still tell that there's lots of al dente cauliflower underneath. This is comfort food at it's very best. The starters and desserts are also fab - They do a great paté starter and a sinful apple crumble.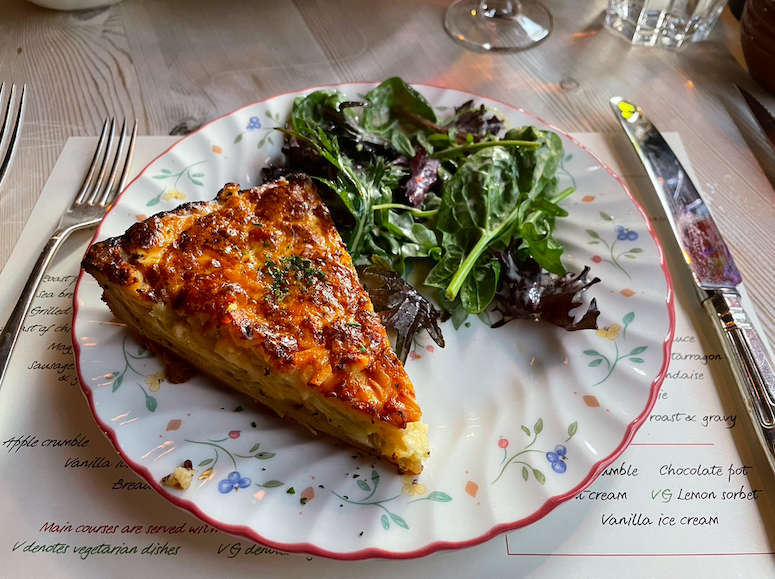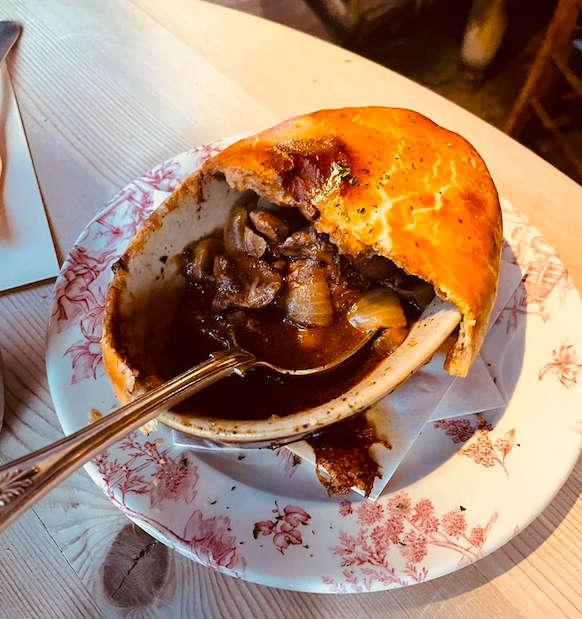 My wonderful tour guide Melanie who has lived in London for many years and arranges wonderful bespoke foodie tours - Instagram - @mel_anie.l