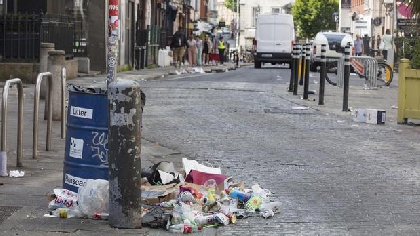 Dublin City Council is to provide portaloos and additional bins in the city centre from this weekend.
150 portaloos, 54 dumpsters and 80 barrel bins will be dotted around the city centre from this weekend. - with a specific focus on high footfall areas.

the lack of public toilets and overflowing bins led to extensive littering and public urination in parts in recent days.

The Portaloos will be open from 10am to 11pm.

If nature calls on the Northside you'll find the public toilets at Wolfetone Sq, O'Connell Street, Smithfield, along the Royal Canal and in Mountjoy Square and Diamond Park.

If you're on the southside, the loos will be located on Sycamore St, Temple Bar Square, Chatham Row, South King Street, Coppinger Row, Dame Court, Dame Lane and Merrion Square.
The move comes as the government announces an extra €4 million in funding for local authorities to install extra bins and toilets.

Each council will get at least €50,000 - and Gardai will work with them to manage any issues with large crowds.

Dublin City Council is to receive €500,000.