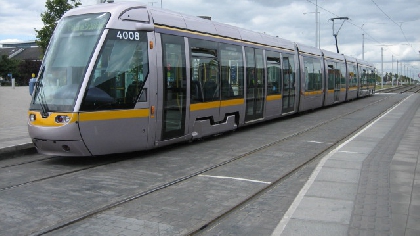 The extension shows stops at St Helena's, Finglas Village, Mellowes Park and Charlestown.
Transport Infrastructure Ireland says the proposed Luas Finglas project will involve extending the northern part of the green line from its current terminus in Broombridge to Charlestown.

The new track will be around 4 kilometres long, with 4 news stops, two main bridges and a new park and ride facility. While the Broombridge depot would also be extended.

TII has published a tender for a survey of the landscape to be carried out.

The route, which will mainly consist of a grass track, is up for public consultation until September.
There are also plans to expand trams to Lucan, Poolbeg and Bray.
Meanwhile eight new longer trams have been added today, that can each carry an extra hundred passengers.
Today, Minister Eamon Ryan, Anne Graham (CEO of @TFIupdates) and Michael Nolan (CEO of @TIINews) announced the launch of a Public Consultation for Luas Finglas and welcomed the first of eight new Luas 55m trams into service. https://t.co/q7gPaLRGab pic.twitter.com/Jxqr1G07Pc

— Transport for Ireland (@TFIupdates) July 28, 2020