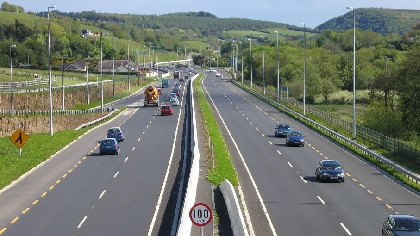 The project team which has been considering various proposals for the upgrade of the N11/M11, have selected the 'Red Corridor', bringing a huge relief for many residents who had expressed concerns  about  one of the proposed alternative routes, which would have impacted on the Sugarloaf.
Wicklow Minister Simon Harris says the key features of the preferred route selected, includes major investment in local roads, to improve connectivity between towns and villages, including new pedestrian and cycling routes.
A new parallel local road network will be developed between junction 5 Bray North and Junction 8 Kilmacanogue.
It also includes additional bus services for commuters to Dublin, to end the heavy reliance of private car use for commuters along the N11/M11.
The next round of public consultation is now underway until Monday September 20th, where local residents can make submissions through an online portal and community groups and landowners can arrange meetings with the project team at n11m11.ie .