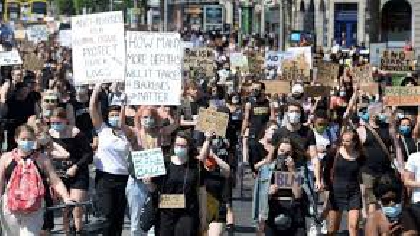 Donald Trump has threatened to deploy the military to quell unrest in cities across America - describing the problem as "domestic terror".
The US president addressed the nation from the White House, as police used stun grenades and tear gas to clear surrounding streets.
It was the sixth day of disturbances sparked by the death of an unarmed black man - George Floyd - in police custody in Minneapolis.

A medical examiner has classified his death, in Minneapolis, as a homicide.
Here The Movement of Asylum Seekers in Ireland has criticised the move by Gardaí to open an investigation into yesterday's protest in Dublin.

In a tweet, the group says "Black Lives Matter exists because of such nonsense", arguing there's been a double-standard applied to other protests which have taken place during the pandemic restrictions.

Gardaí say they engaged with protesters the Black Lives Matter protest on the same basis as others.

The force says it will seek the advice of the DPP in respect of any further actions to be taken.