Magical Christmas Markets in Germany - Nuremberg and Frankfurt
Travel Talk with Ed Finn
Saturday, December 10th, 2022 - 8 minutes
Every year from late November, many German towns are illuminated by glittering Christmas lights and on every street corner you'll find local crafts and delicacies. Enjoy the Christmas atmosphere at the Germany "Christkindlesmarkt" in these two contrasting, delightful cities as Christmas approaches this year. Christmas markets are absolutely magical and are back with a flurry. The scents of chestnuts roasting, gingerbread baking, and wine mulling waft through the air. The historical cities that play home to them ooze atmosphere and the chilly and sometimes snowy weather is the perfect excuse to embrace that festive spirit. Ed travelled to Nuremberg and Frankfurt recently and thoroughly enjoyed visiting these wonderfully contrasting cities.
Magical Christmas Market at the castle in Nuremberg
In the old square below the castle, small wooden stalls with red and white striped canopies make a picturesque sight. Nuremberg Christmas Market has over 165 stalls and attracts over two million visitors each winter. This is probably the most celebrated of all the Christmas Markets in Germany. When darkness falls, if anything, the square takes on an even more fairy tale and enchanted appearance.
Ed flew with Ryanair to Nuremberg with fares in December from €43 each way
Ed stayed at the Leonardo Royal Hotel - Prices from €230 per room in December
The Nuremberg Card is great value and provides free entry to all the most popular museums and attractions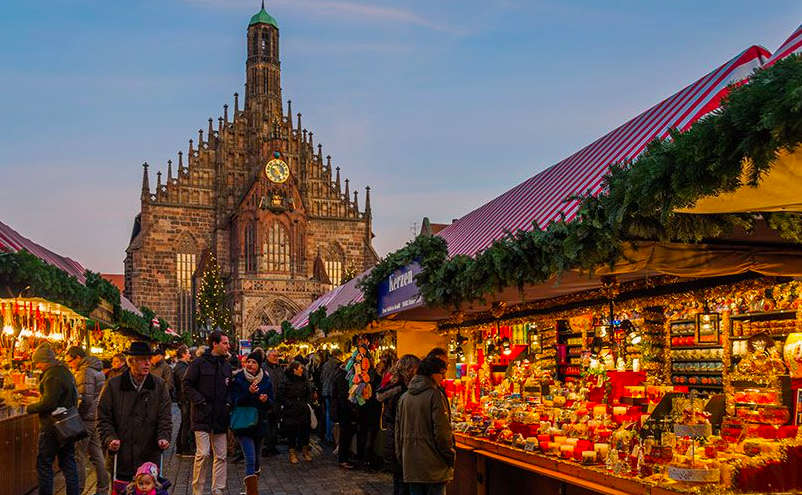 Frankfurt's giant Christmas Market
The giant Christmas Market in Frankfurt has a very long history and has been held for over 600 years. The market's hallmark is a gigantic Christmas tree in the middle of the square.The market closes on 22 December but if you are still in the city on Christmas Eve, you can experience something quite magical. At 5pm, the bells in ten of the city's churches, 50 church bells in total, ring out together.
Frankfurt is just a two hour train journey from Nuremberg.
Ed flew with Aer Lingus to Frankfurt with fares in December from €49.29 each way -
Ed stayed at the Hilton Frankfurt City Centre - Prices from €197 per room in December
The Frankfurt Card is great value and can be printed and used to travel from the airport to the centre.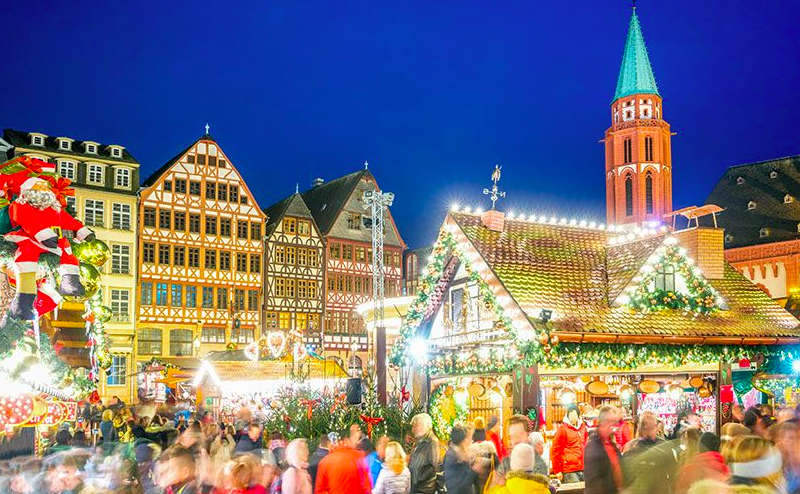 It is very possible to combine both of these markets and in Frankfurt I also recommend visiting the Wiesbaden Markets which are just a 30 min train journey. Trains in Germany are very efficient and very good value. To book online - https://www.bahn.com/en
Subscribe to this podcast
Listen Live to a Sunshine station